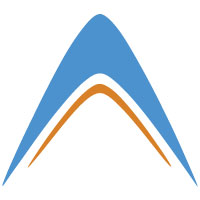 University of Nebraska students create in-flight calculator app using Flight Simulator
A group of students from the University of Nebraska at Omaha visited Offutt Air Force Base this summer to test out a flight simulator for an application they were commissioned to create.
"They are working to solve a problem identified by Bockscar by creating a custom in-flight calculator application," said Alex Mathews, Walter Scott Junior Scholarship Program Coordinator.
Bockscar is an Air Force program that identifies emerging technologies with the goal of creating useful applications for aircrew.
Mathews accompanied them to the base where everyone took turns flying in an RC-135 simulator. By partnering with the U.S. Department of Defense, interns have the opportunity to use their design and coding skills while learning the skills to collaborate and support a client.
"The app will provide mathematical support to calculate various conversions such as temperature, fuel types, units of speed, fuel condition estimates and various aviation-critical weather factors," Major said. Air Combat Command evaluator navigator Bryan Allebone.
The 55th Wing Innovation Office, which provides technical support for the ACC Electronic Flight Bag (EFB) program, recognized that there was something missing in flight calculations over the past few years. A specialized computer known as the E-6B performs basic and advanced flight functions and formulas that Airmen use to double-check aircraft systems and document various flight mission functions.
Students experienced flight simulations to gather requirements, get a taste of how the Air Force would use the app, and what it looks and feels like when flying.
Maj. Damon Wagoner, 55th Special Projects Operations Group Deputy Chief, trained the students.
"I am so proud of my team for stepping down and delivering this app which has the potential to serve over 150,000 people in our military. Being able to help in this way has been a once in a lifetime experience," said Bella Donovan, team leader and sophomore at the UN majoring in math and economics.
Students are recipients of the Walter Scott, Jr. Fellowship Program and pursue studies in a variety of scientific, technological, engineering, and mathematical disciplines.
The app is currently in testing and development with an expected early fall release date pending cybersecurity assessment and user feedback results.
Source: Offutt Air Force Base press release
You can also see our terms and conditions for our content policy.