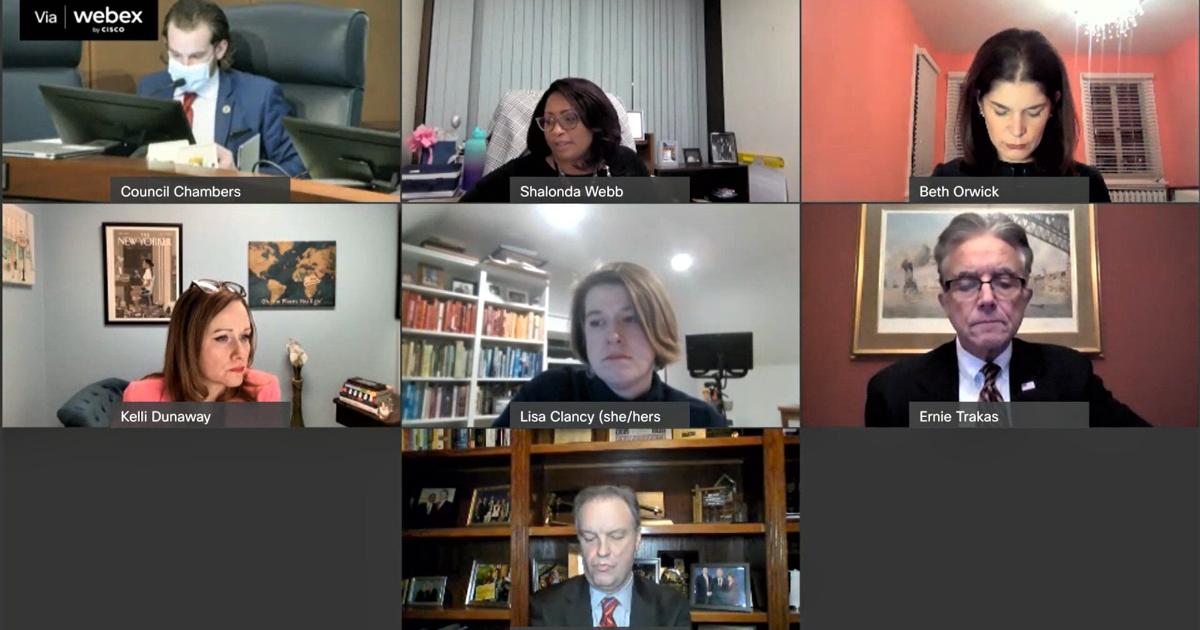 St. Louis County Council Votes to Expand Controversial Clean Energy Loan Program | politics
CLAYTON — St. Louis County Council on Tuesday voted unanimously to expand a local clean energy lending program by authorizing a second provider to do business, noting recent changes designed to protect borrowers from risks arising in a investigation found last year.
Councilwoman Kelli Dunaway, a sponsor of the Property Assessed Clean Energy Program, said the legislation includes new county regulations that, along with a new state law and local community service agreements, "offer really strong consumer protections that go beyond what's not available anywhere else in the country."
The bill also connects the county to the Missouri Clean Energy District, one of a few Missouri companies that makes PACE loans designed to help homeowners fund the cost of energy-saving improvements. Loan payments are added to the borrower's property tax bill.
MCED is expected to operate in unincorporated areas to compete with the St. Louis County Clean Energy Development Board, established by county ordinance in 2015. MCED is already active in 27 of the district's 88 parishes. Both MCED and the St. Louis County Clean Energy Board hire private companies to administer the PACE loans.
Tuesday's council vote comes weeks after Dunaway recommended the council end the housing program entirely, fearing insufficient oversight was putting some homeborrowers at risk.
Research by ProPublica published in April 2021 found that some private borrowers using PACE faced hefty tax bills they couldn't pay after agreeing to costly upgrades. The nonprofit news organization's investigation found that more than 100 of about 2,700 borrowers in the St. Louis and Kansas metropolitan areas were at risk of losing their homes.
State law dictates that PACE loans only go to people who can afford them, but local government agencies tasked with overseeing the program, including the St. Louis County Clean Energy Board, had defaulted to private lenders and were unaware of the high late payment rates.
In response, state lawmakers passed legislation in June that requires the state Treasury Department to review PACE loans at least every two years and cap the amount homeowners can borrow based on the appraised value of the home.
PACE lenders, meanwhile, released a new list of 22 "consumer protection guidelines" that include rate controls, a three-day cancellation policy with no penalty and home inspections to ensure upgrades are working before a borrower has to start paying.
Last week, the St. Louis and St. Louis County chapters of the NAACP and the Sierra Club informed the council that they had recently signed a community service agreement with PACE lenders that mandates quarterly reports and meetings to try to do more Add community oversight. The Sierra Club said PACE loans support green home upgrades, and the NAACP said the PACE loans are one of the few financing options for low-income homeowners that banks or other traditional lenders may turn down.
"I think it was made pretty clear last week that there are some communities in our area that don't have access to capital beyond that," Dunaway said Tuesday. "We need to make sure everyone in St. Louis County who needs access to capital has it."
She added that her bill has been revised to enshrine the home inspection policy in the county statute. And it would require PACE lenders to inform potential borrowers about alternative financing options available through Ameren and Spire and provide translators for non-English speaking borrowers.
Several council members commended Dunaway for adding consumer protections to the measure, including Shalonda Webb, D-4th District, who had pushed for the community benefits agreement.
Councilor Ernie Trakas, R-6th District, said he supports the bill "with a keen eye."
Council Chairperson Rita Days, D-1st District, and Councilor Tim Fitch, R-3rd District suggested that the Council also collect an annual report from the Clean Energy Board and its contracted PACE Administrators.
"We have to keep monitoring all of this, because if we don't, we're right where we started," Fitch said.
The bill now goes to County Executive Sam Page, who sponsored the original PACE legislation in 2015 as a then-councillor. Page said Monday he would sign the measure into law if it passed the council.
Budget requests approved
The council also unanimously approved a handful of departmental budget increases for new spending programs:
• $1 million to the Department of Transportation and Public Works for facility maintenance.
• $1 million for a comprehensive land use plan.
• $500,000 for a "comprehensive salary study" in all district departments.
• $92,553 for the Department of Human Services to hire a new administrative services manager.
• $807,857 to expand the county court system by adding 13 clerks and two court judges.