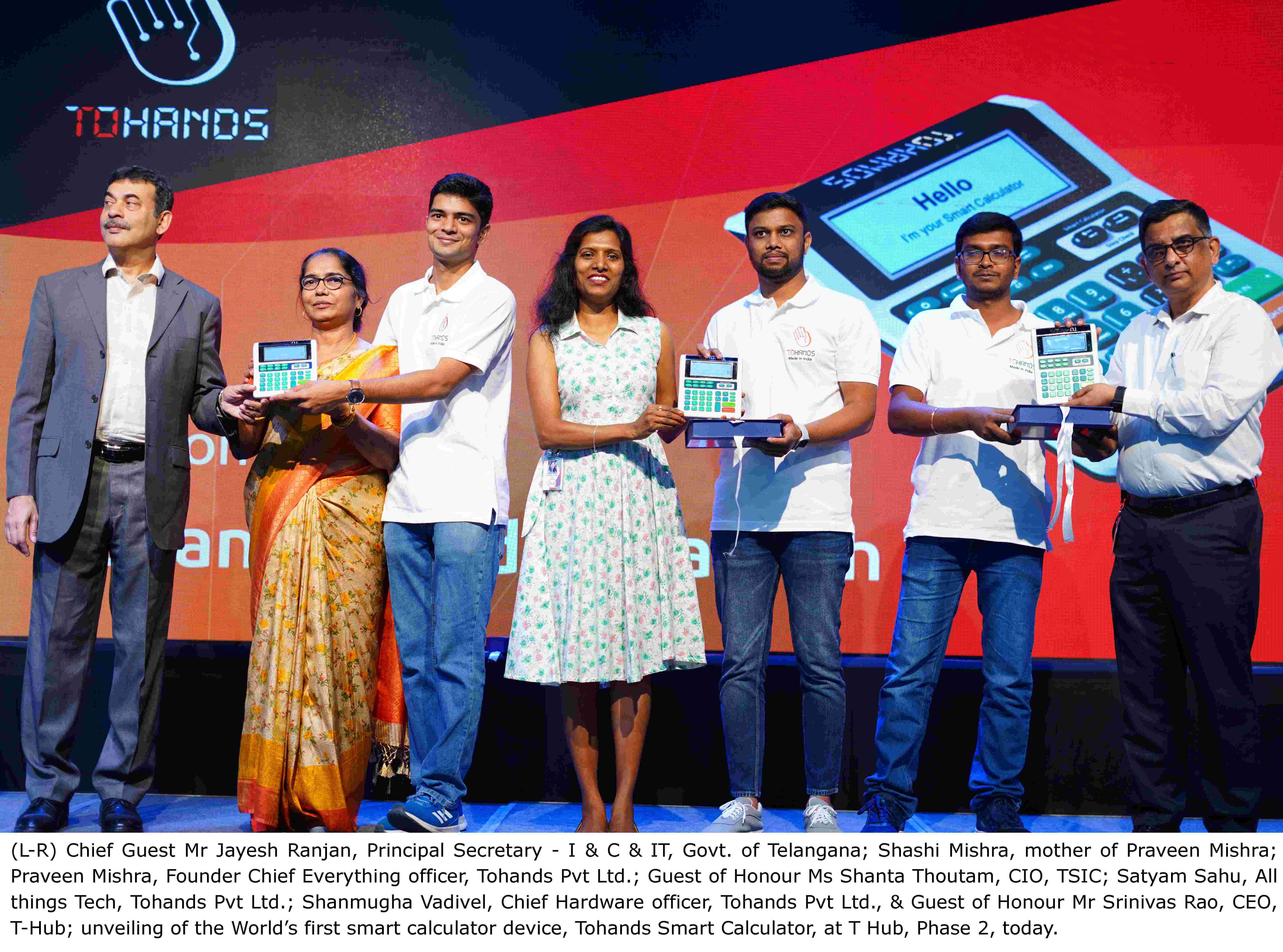 Merchants now have an easy way to track income, expenses
Hyderabad: Tohands Pvt. Ltd., a four-entrepreneur start-up aimed at providing smart transaction accounting solutions to small and medium-sized businesses, has unveiled the world's first smart calculator, Tohands Smart Calculator.
The Tohands Smart Calculator was officially launched by Telangana IT Secretary Jayesh Ranjan on Tuesday during the T-Hub phase.
This calculator aims to help merchants track their in-store transactions, including income and expenses, through the Tohands mobile app. This device saves the merchant from having to write down all of the day's income and expenses and presents an updated statement at the click of a button.
Tohands Pvt. ltd. is backed by Startup India Seed fund and T-Hub to develop the smart calculator and has raised Rs. 50 lakhs so far through them.
Tohands' four young innovators are Praveen Mishra, Founder Chief Everything Officer; Satyam Sahu, All About Technology; Shanmugha Vadivel, Materials Manager; and Arvind Subramanian, All About Growth.
"Current options for SMEs (small and medium-sized enterprises) are not user-friendly. Keeping track of all transactions and recording income and expenses in a notebook is laborious and not foolproof," says Praveen Mishra.
"Using an app to record every transaction is time consuming and distracts the customer's attention. Our Tohands smart calculator precisely addresses these daily challenges. It records every transaction on the mobile app in real time and the merchant can access at their convenience, helping them to focus on customer service and build customer loyalty," he added.
Tohands Smart Calculator aims to bring much-needed transparency in accounting for small and medium sized businesses while recording and displaying accurate income and expense details at all times.
The calculator lasts three days on an electric recharge. It has internal memory to save up to five lakh transactions and saves the details even if the device is not connected to WIFI.
The device is priced at Rs. 2,999.
The app that comes with the device is Freemium and users can access data for the last 90 days and download a few reports. A monthly subscription starting at Rs. 99 allows access to data and downloading of reports over 90 days.
The company's design ideology is MAYA – More Advanced Yet Acceptable.
"Tohands Smart Calculator brings a new solution in the current behavior model. This allows the smart calculator user to quickly adopt change without resistance," Praveen said.
"Tohands Smart Calculator is poised to disrupt the calculator market dominated by Casio and other Chinese vendors with virtually no product innovation over the past two decades," said Jayesh Ranjan.