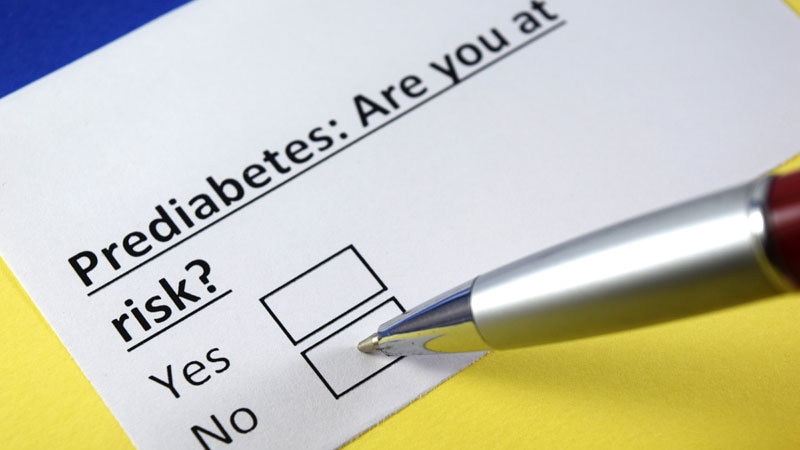 Diabetes risk calculator spurs action on prediabetes
The researchers published the study covered in this summary on medRxiv.org as a preprint that has not yet been peer reviewed.
Key points to remember
Adults with prediabetes who received the results of a diabetes risk calculator (DRC) and acted on them by accessing a free preventive intervention were less likely to have prediabetes or diabetes when followed up with 1 and 3 years compared to similar study subjects who received the same information but did not have access to preventive intervention.

When the electronic health records that primary care physicians kept for these individuals were programmed to automatically populate a DRC for each patient, a significantly greater proportion of these patients received from their physician the interventions recommended for individuals diagnosed with prediabetes.

DRC appears to offer clinicians an effective way to communicate with people with prediabetes and promote interventions to prevent obesity and diabetes.
why it matters
One in three American adults has prediabetes, but 90% of those people are unaware of their status.

There are proven strategies to prevent or delay diabetes, including weight loss.

Wider and more systematic use of DRC in primary care practice in the United States could advance efforts to achieve existing national goals for reducing the incidence of diabetes. Wider use of DRC may also make patients more likely to engage and clinicians more likely to prescribe interventions that can delay progression to diabetes.
study design
Single-arm study of 328 "eligible" individuals identified between 2018 and 2022 at three primary care sites in the Geisinger Health System of central Pennsylvania.

Of the 328 eligible people, 81 responded to the first contact, including 62 diagnosed with prediabetes who formed the "treatment" group; 55 of these individuals provided 1- and 3-year follow-up data. The remaining 247 nonresponders served as controls, with 169 providing follow-up data at 1 and 3 years.
Principle results
At one-year follow-up in the treatment group, 11% had resolved prediabetes, 87% still had prediabetes, and 2% had progressed to type 2 diabetes, compared to one-year prevalence rates of 2%, 79 % and 20%, respectively, among nonrespondents. These differences between the groups were significant.

At 3 years, the prevalence rates for these three outcomes in the treatment group were 11%, 64% and 25%, respectively, compared to 5%, 53% and 42% in the non-responders, again significant differences between the groups.

In the pre-implementation phase for DRC, 9268 patients met criteria for DRC assessment, of which 0.3% received anti-obesity medication and 9.7% were referred for preventive intervention.

The subsequent early implementation phase (first 6 months) of automatic patient assessment using DRC included 8771 patients, of whom 0.4% received anti-obesity medication and 10.7% were oriented towards preventive intervention.

Compared to the pre-implementation phase, a significantly higher proportion of patients received either a referral or anti-obesity medication during the early implementation phase.
Limits
Disclosures
This is a summary of a pre-publication research study, "Communication of diabetes risk to patients results in lower incidence at 1- and 3-year follow-up and improved preventive intervention," written by researchers at Geisinger Health in Danville, Pennsylvania on medRxiv, and provided by Medscape. The study has not yet been peer reviewed. The full text of the study is available at medRxiv.org.
For more information on Diabetes and Endocrinology from Medscape, follow us on Twitter and Facebook
Credits:
Main Image: Yee Xin Tan/Dreamstime
© 2022 WebMD, LLC
Send topical advice to [email protected]
Cite this: Diabetes risk calculator spurs action on prediabetes – medical landscape – June 30, 2022.